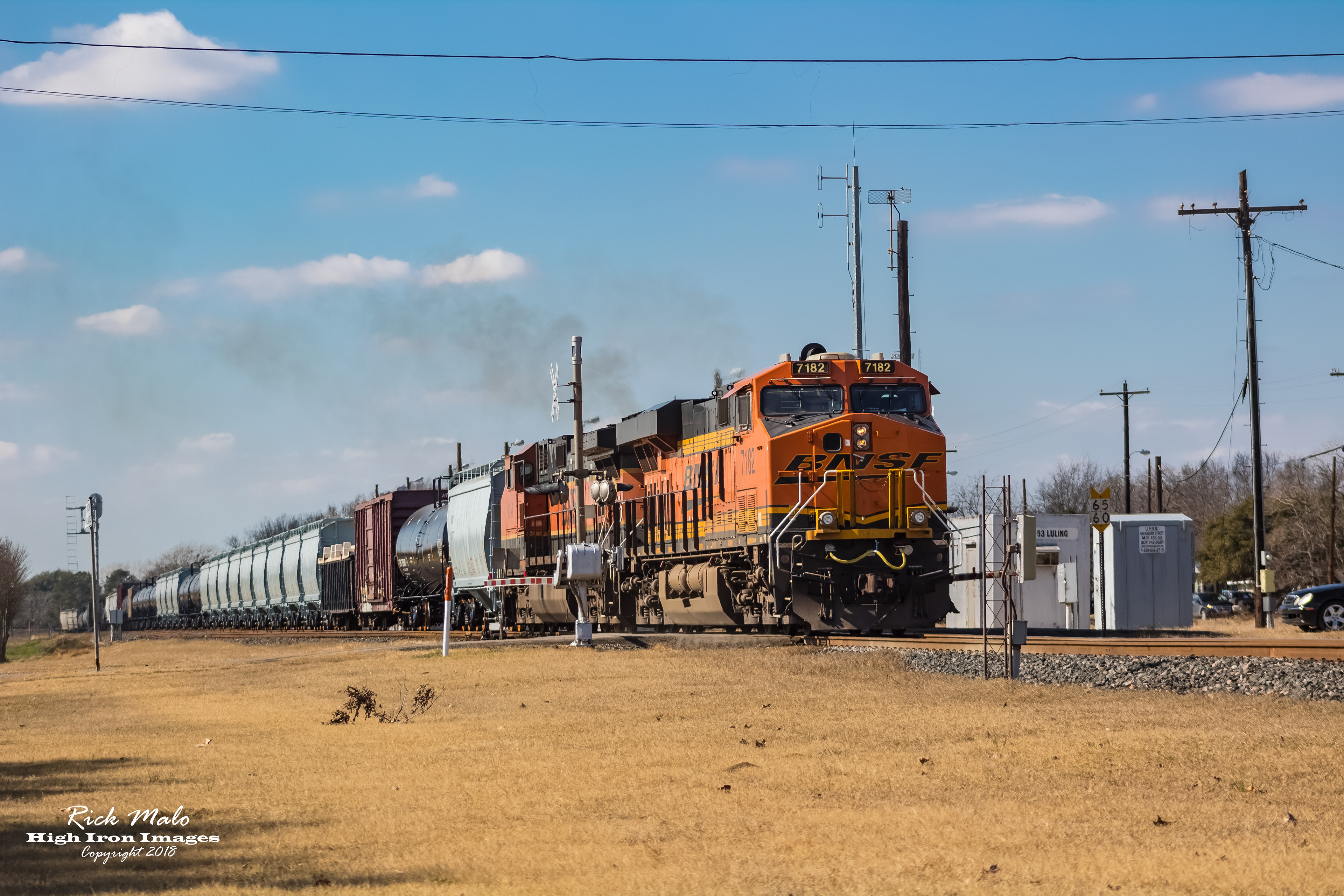 On any given day the east switch of the siding in Luling, Texas sees a lot of traffic; and Sundays are no different from any other day.
At 2:26 pm on the warm and sunny afternoon of January 28th, 2018, the engineer in 4-year-old BNSF ES44C4 number 7182 stopped his train on the Sunset Route mainline to allow his conductor to access the crew shed at Union Pacific's small trackside facility.
Then, at 2:31, after regaining his crewmate, the hogger throttles up his charges. With mostly new covered hoppers and tanks fresh from the carbuilder, the comfortably over-powered train steps smartly across Hackberry Avenue and resumes her eastbound journey.
____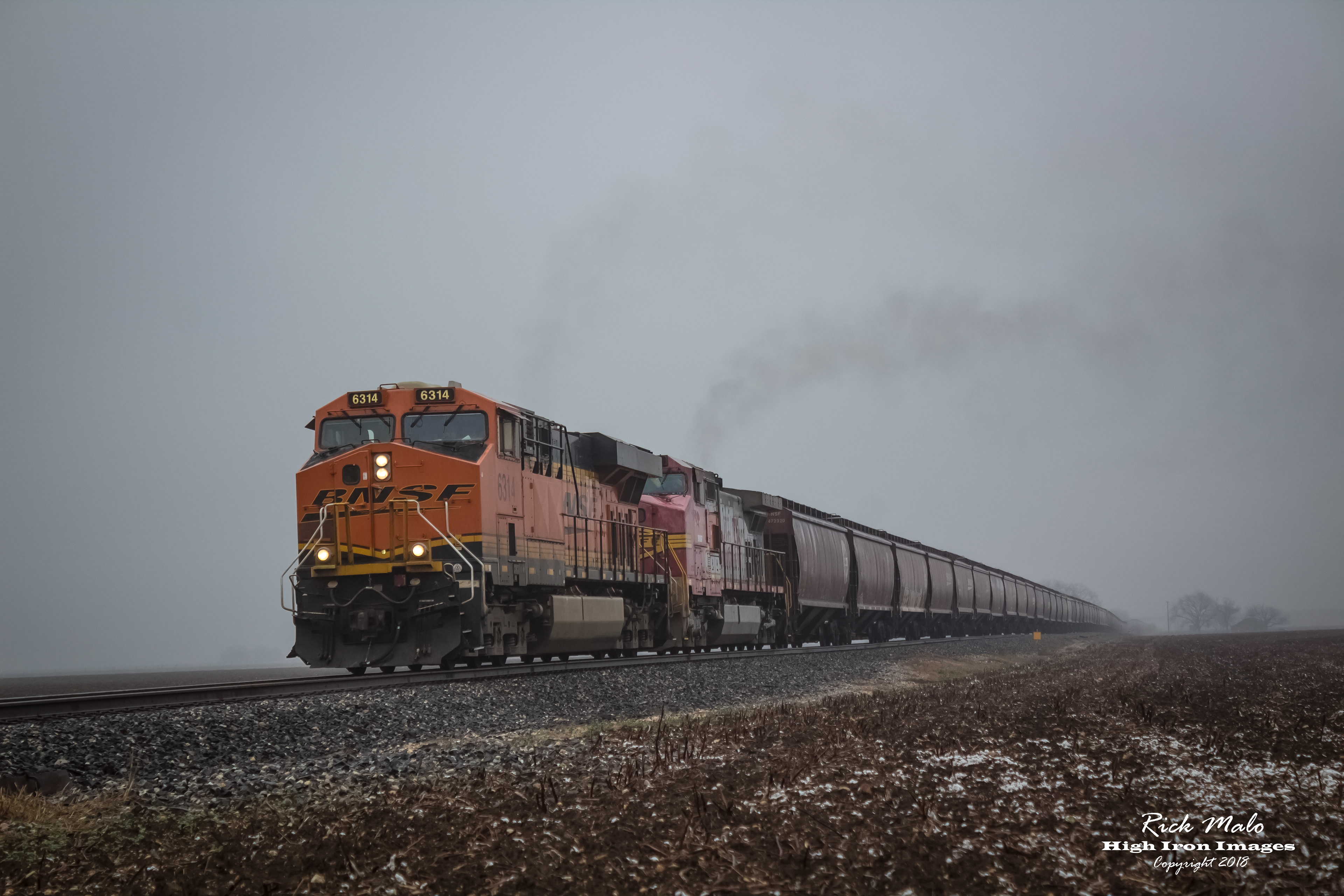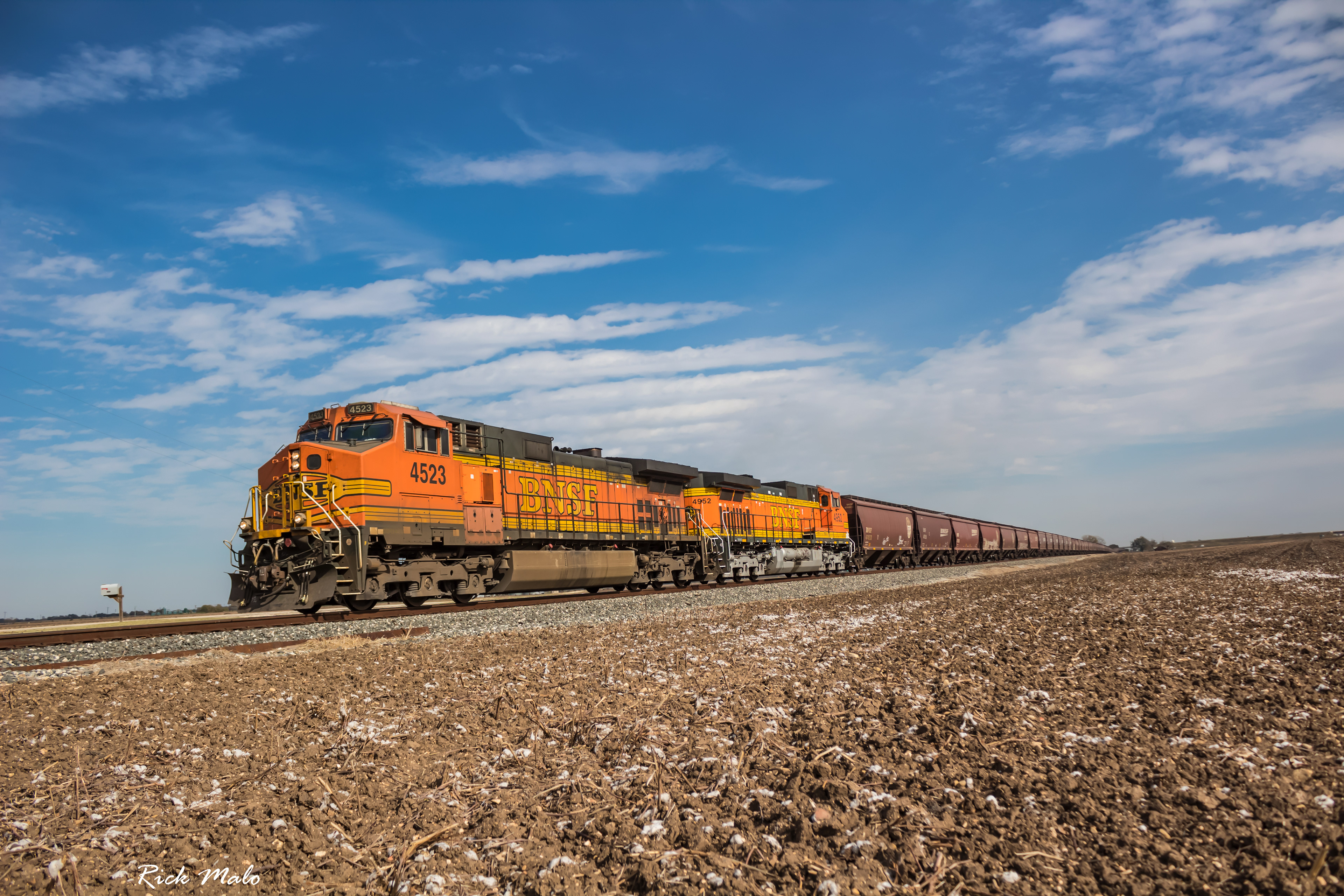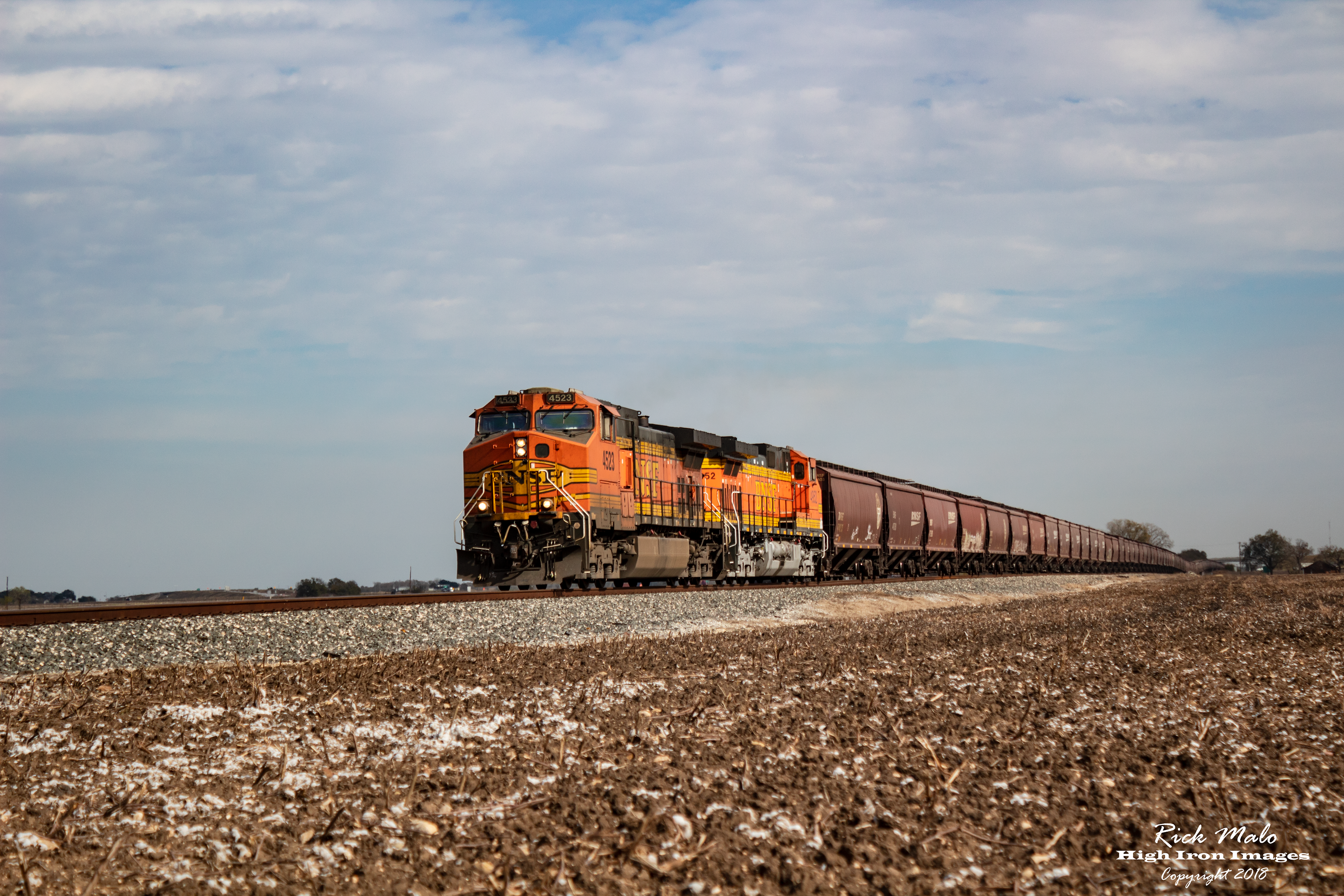 Here's the look of late-autumn railroading in central Texas:
It's 2:20 pm on December 15th, 2018, and with the winter solstice just days away, the declination of the sun has created long shadows in the somewhat diffused light.
The passage of last night's cold front has the skies clearing and left a brisk north wind blowing across the fallow fields of Caldwell county, leaving the air crisp and dry.
Where once the torrential rains and gale-force winds of Hurricane Harvey lashed away and threatened to destroy the cotton crop on the Clark family farm, only stubble and clusters of errant cotton bolls are left. The wise and weathered family has been farming these fields for many generations, and their experience and stick-to-it-ivness led them to a successful harvest just a few short weeks prior to this scene, where BNSF C44-9Ws 4523 and 4952 roll a solid block of company hoppers filled with Northern grain along the rolling farmland west of Lockhart, Texas.
This is Union Pacific territory, but the Lockhart Subdivision sees plenty of foreign traffic on the southbound directional-running route out of Smithville, and the grain season always proves to be especially busy. 
____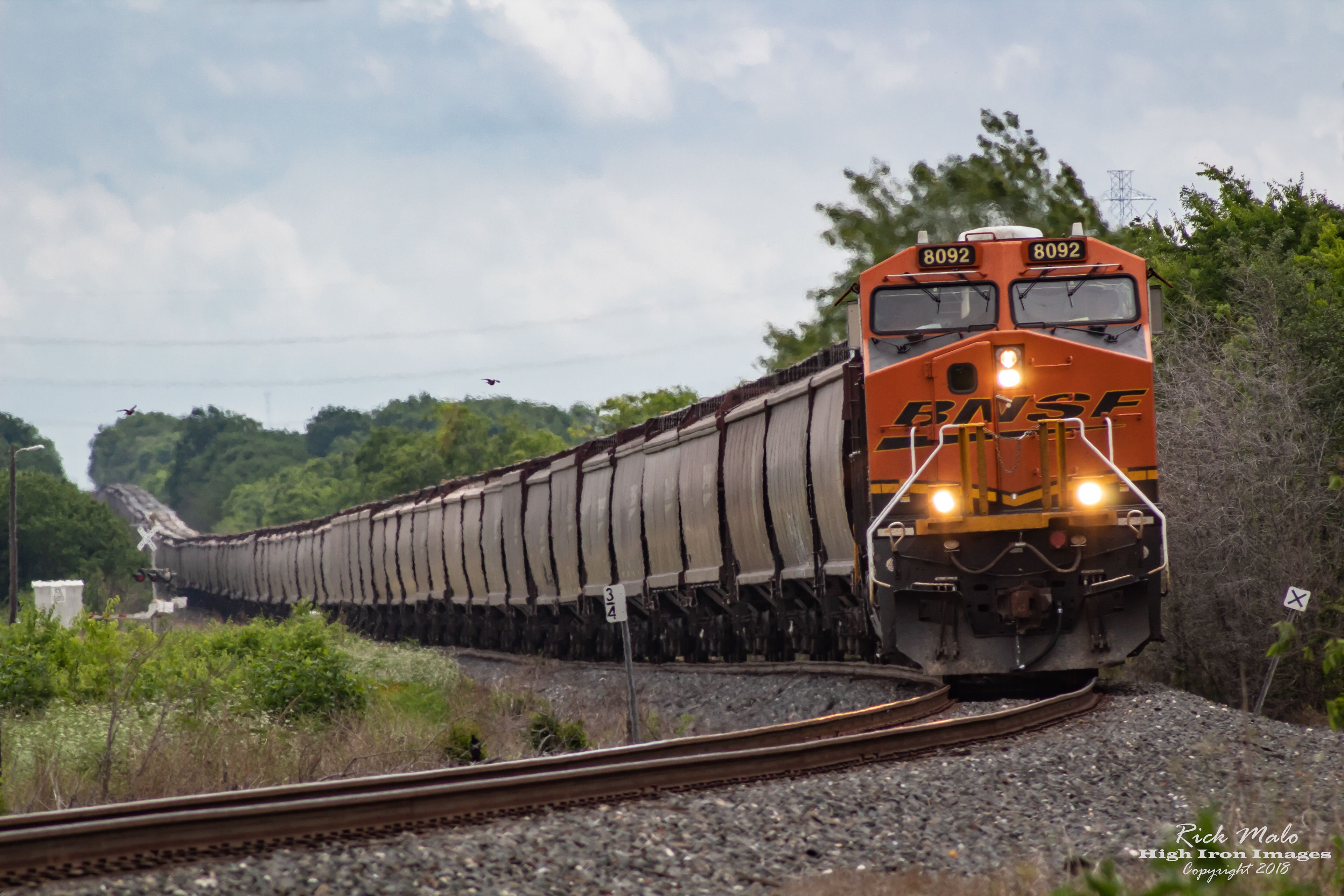 There's been a stiff southerly breeze blowing all day off the Gulf of Mexico, bringing plenty of humidity to central Texas, bending the tall trees and blowing heat waves off of approaching BNSF ES44C4 number 8092.
Here, at 12:37 on the last afternoon of April 2018, the 4-year-old GE, accompanied by a Norfolk Southern unit, leads a southbound block of loaded company grain hoppers into the sweeping curve in Maxwell, Texas on Union Pacific's Lockhart Subdivision.
____

The temperature in the valley near Maxwell, Texas reached 104 degrees today as the ridge of high pressure keeps the region locked in a sweltering heat wave.
At 8:07 pm on July 20th, 2018 the temps are still in the very high 90s as the rapidly setting sun lights up the face of 2003-built BNSF C44-9W number 5188 leading a newer GEVO as they head a southbound block of empty auto racks downgrade on Union Pacific's Lockhart Sub under a Saharan dust-tinted sky.
____